Baanka presents Kesri Mukhallat, a fragrance derived from the most expensive Indian spice, Saffron.
It open with a strong, earthy, sweet, and authentic aroma that gives you the richness of red-gold (Saffron).
Its fragrance can be best described as warm, exotic, sophisticated, and timeless.
We have created this rich ittar by doing hydro-distillation of high quality saffron and keeping a base of Sandalwood, Rose & Night Jasmine.
Description
The name of Kesri Mukhallat is self-explanatory wherein Kesri represents Kesar which is a Hindi term for saffron while Mukhallat is an Arabic term that denotes a mixture of non-alcoholic essential oils & aroma.
Besides being an alluring fragrance, Kesri Mukhallat has medicinal properties that helps to treat stress, depression, and anxiety.
Kesri Mukhallat Notes: Top- Saffron, Heart- Sandal, Base- Rose & Night Jasmine.
Precautions: Some people may be allergic to natural products, test the patch on inner elbow and leave it for 30 minutes. Discontinue if irritation occurs.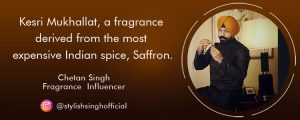 Share Our Ittar With Your Friends & Family